Summer is quickly approaching and that means plenty of sunshine and longer days. One of the major pluses of summertime is the opportunity for new adventure. Regardless of whether that looks like a new job or a new home, now is the time to check out some Waynesville, NC homes for sale. Lynda Bennett of Better Homes and Gardens Real Estate is the top choice realtor who will help you secure your dream house. She has been in the business since 1986 and awarded numerous times for her top production. If you are looking for a professional and tailored experience, contact Lynda today.
Exquisite Waynesville, NC Homes for Sale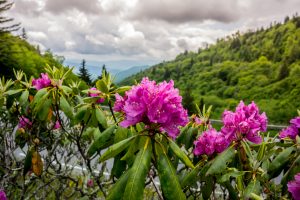 As the largest town west of  Asheville, Waynesville, NC is a unique mountain town to live in.  It offers year round entertainment and recreational opportunities.  With its proximity to the Great Smoky Mountain National Park, the Blue Ridge Parkway and Cataloochee Ski Lodge, outdoor enthusiast will always be kept busy.
Enjoy elevated living at its finest.  Downtown Waynesville is nestled among stunning mountain tops.  Take in the picturesque scenery as you stroll down mainstream.  There are numerous fine shops, breweries, art galleries and restaurants to enjoy.
Waynesville, NC Festivals
Downtown Waynesville is host to a variety of festivals, parades and events.  There are typically several art festivals that happen throughout the year featuring local artisans.  Holiday celebrations are popular with the 4th of July Parade and Christmas on Main Street. The Apple Festival is sure to bring out the fall spirit and get anyone in an apple pie kinda mood!
Waynesville, NC Gate Way to the Smokies
Waynesville is referred to as a Gate Way to the Smokies. With its proximity to the Great Smoky Mountains National Park, the Blue Ridge Parkway and Pisgah National Forest, folks are just a drive away from adventure and breath-taking scenery.
Home to 18 mountains topping 6,000 feet or higher, Haywood County has the highest elevations of any county east of the Rockies!  These glorious ridges provide distinct four seasons.  Visitors can enjoy fresh blooms to snowy peaks and everything in between.
Waynesville, NC Houses for Sale
Likewise, Waynesville is not just a top place for visitors alike, but many folks are seeking to make this their permanent home.  With its friendly faces and small-town appeal, Waynesville has gained much popularity. If you would like to know more about what Waynesville has to offer, contact Lynda Bennett.  With her extensive knowledge and leading expertise, she can advise you on all your real estate questions.