Lynda's reviews speak for themselves.  She receives 5 out of 5 stars, ranking as a top real estate agent in Maggie Valley.  Just have a look at what her clients are saying about her. Her clients have recognized her as one of the best, as does her real estate firm.
Award Winning Top Real Estate Agent in Maggie Valley
Looking for the top real estate agent in Maggie Valley?  Lynda Bennett has been nationally recognized as one of the top producing agents in Maggie Valley with Better Homes and Gardens Platinum Award.  This recognition is a result of her performance as a real estate professional and ranks her in the top 6% of all agents in her national brand.  She has received this award as a Top Agent in Maggie Valley for the past two years – 2020 & 2021.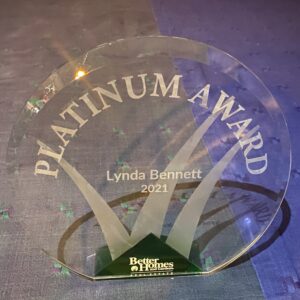 Top Real Estate Agent Expert in Maggie Valley
With all of her Top Agent Maggie Valley expertise, put her knowledge to work for you!  She has decades of experience in Maggie Valley real estate, having dealt with all kinds of markets and situations.  Are you wondering what the current real estate market trends may be?  How will your home price in this Maggie Valley market?  How much should you sell your vacant land for?  Is it a good time to sell or buy? Maybe you need staging ideas?  Contact Maggie Valley's top agent, Lynda Bennett, with all your questions – at absolutely no obligation.  Lynda is an advocate for her clients and loves to talk Maggie Valley real estate.  She is a steadfast communicator and strong negotiator.  Contact her to today!  Call or text direct to 828-421-7279 or email at bennett@mountainheritage.com.